This robotic menace is the big boss of Blackthorn's Factory. He looks like a blackthorn juggernaut, but don't be fooled, he has been upgraded with some seriously dangerous new components and software. Be careful when he is near death: he explodes when he dies, causing area of effect damage.
You can watch a video of him in action here.
Stats: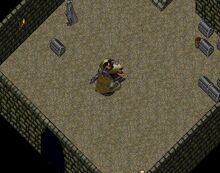 Str: 851 - 950
Dex: 100 -125
Int: 61 - 90
Hits: 5000 - 6000
Dmg: 40 - 55
Skills:
Magic Resist: 100.1 - 115.0
Tactics: 90.1 - 105.0
Wrestling: 90.1 - 105.0
Anatomy: 90.1 - 115.0
Special Abilities:
Bard Immune
Auto Dispel
Poison Immune (deadly)
Stunning Blow
Spews flammable oil (video)
Drains life
Blows up when killed (AOE dmg)
Drops:
Charger of the Fallen
Assault Mech Statuette
Music Gears (random)
Dawn's Music Box
Treasure Map (level 5)
Community content is available under
CC-BY-SA
unless otherwise noted.