Introduction:
Edit
Hail friend!
I'm user HibbiGibbi in the discord and all my characters in-game have the last name of "Blaque".
I started on this server in January of 2017 and have played consistently to the date of this page creation (November 2017).
The below excel screenshot outlines the various templates I've created and enjoyed using here on Phoenix. These templates spread between the two allowable accounts allows me to craft all items in the game (to date). I do have to purchase wood as none of my templates have lumber jacking although parry could be traded on the swordsman for lumber jacking if you so choose.
The character I find to be the most powerful is the Tamer/Provo. The character I find the most fun to play would either be the Pure Bard, or the Tamer/Archer (although he has carry weight issues).
Maybe this will help inspire you in some way or give some great ideas for other templates! See you in game!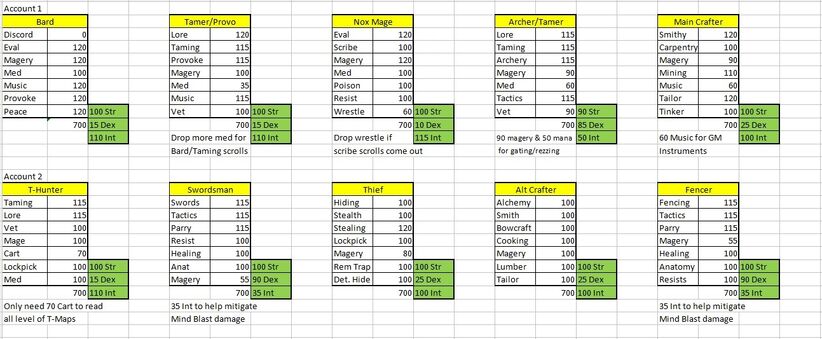 Community content is available under
CC-BY-SA
unless otherwise noted.